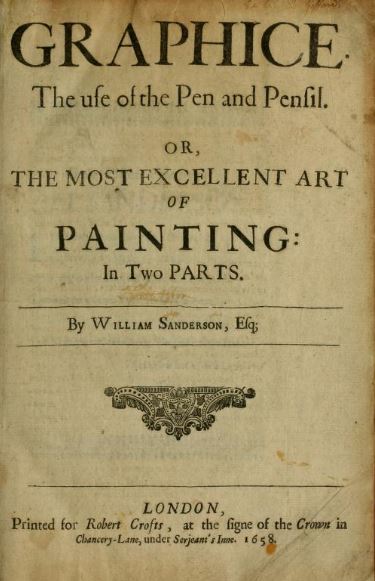 SANDERSON, William, Graphice. The use of the Pen and Pensil. Or, the most Excellent Art of Painting: In Two Parts, London, Robert Crofts, 1658.
HARD, Frederick, « Ideas from Bacon and Wotton in William Sanderson's "Graphice" », Studies in Philology, 36/2, 1939, p. 227-234 [En ligne : http://www.jstor.org/stable/4172440 consulté le 30/03/2018].
SALERNO, Luigi, « Seventeenth-Century English Literature on Painting », Journal of the Warburg and Courtauld Institutes, 14/3-4, 1951, p. 234-258 [En ligne : http://www.jstor.org/stable/750341 consulté le 30/03/2018].
COTTEGNIES, Line, « "Speechless Discourse" : image et discours dans un traité d'art du milieu du XVIIe siècle », Bulletin de la société d'études anglo-américaines des XVIIe et XVIIIe siècles, 40, 1995, p. 7-25 [En ligne : http://www.persee.fr/doc/xvii_0291-3798_1995_num_40_1_1950 consulté le 04/04/2018].
HURLEY, Cecilia, « William Salmon et la "Polygraphice" : la théorie de l'art en Angleterre avant Jonathan Richardson », dans HECK, Michèle-Caroline (éd.), L'histoire de l'histoire de l'art septentrional au XVIIe siècle, Actes des journées d'étude de Lille et de Bruxelles, Turnhout, Brepols, 2010, p. 187-207.
GOOD, Caroline Anne, "Lovers of Art". Early English Literature on the Connoisseurship of Pictures, Thesis, University of York, 2013 [En ligne : http://etheses.whiterose.ac.uk/5694/1/Caroline%20Good%20'Lovers%20of%20Art'%20PhD%20Thesis.pdf consulté le 11/07/2016].
LIPKING, Lawrence, The Ordering of the Arts in Eighteenth-Century England, Princeton, Princeton University Press, 2015.